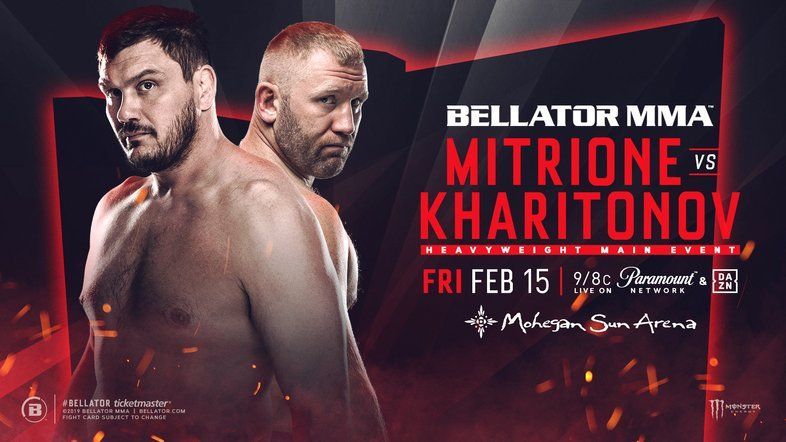 Matt Mitrione returned to the cage last night in the main event of Bellator 216, looking to get back in the win column in a fight with feared Russian striker, Sergei Kharitonov. In his last fight, Mitrione had been unceremoniously dumped out of the Bellator Heavyweight Grand Prix in the semi-finals by eventual winner Ryan Bader. The disappointing performance also marked the first time Mitrione had tasted defeat since joining Bellator back in 2016. Debuting against Carl Seumanutafa, he had then rattled off four wins with three knockouts, including a famous victory over Fedor Emelianenko.
The fight with Kharitonov represented the kind of bout that historically Mitrione had always thrived in. As a former NFL player, Mitrione's speed and power seemed to have translated into a solid striking game, that has seen him score knockouts over the likes of Fedor, Derrick Lewis, Gabriel Gonzaga, and Kimbo Slice.
Kharitonov is also quite the savvy striker himself. The Russian has medalled at the Asian Games for boxing and has also won a kickboxing world title. So, all the conditions seem perfect for a heavyweight slugfest right? Unfortunately, the ever-unpredictable nature of MMA decided to rear its ugly head again last night. Both fighters had made it through gruelling six-week training camps, all without injury, to face off with one another.
At that point, however, it appeared fate had decided to intervene. As both men tentatively looked for their opportunity to strike, Kharitonov flicked out a non-committal jab. Sergei's testicle exploded and the fight was cancelled, Sergei was taken out on a stretcher and rushed to the hospital and the fight was declared a draw. Check it out?